"I love you. It's a poor excuse for what I'm doing, but it's still true." Edward Cullen, Twilight, p. 366
Twilight Thursday is a feature I created to share my love of all things Twilight. I'm a huge fan of the books and movies, so every Twilight related topic I have to talk about will fall under this feature. Even though I vowed to never write a review of these books, I'm not opposed to sharing my opinions or defending the franchise I love. For any questions, comments, etc., about this feature or Twilight, feel free to leave a comment or email. I'm up for any/all Twi-Convos!

This feature is not likely to be weekly.



Disclaimer: This feature is directed at Twilight fans. Whether you're a fan of the books and movies; or just the books; or just the movies... Twilight Thursday is a place for friendly conversation. Me, being such a big Twi-Hard, will be greatly offended if anyone leaves negative and hurtful comments in regards to any part of the Twilight franchise. Please be nice! Also, all posts will most likely contain spoilers. Please do not read anything written under the Twilight Thursday feature if you do not want anything spoiled. You've been warned
If you haven't been paying attention to
Breaking Dawn Pt. 2
news these past few weeks, then you may have missed out on seeing the debut of the new movie tie-in books. Also,
Entertainment Weekly
announced they were publishing a paperback dedicated to the
Twilight
'journey' and will be hitting shelves this October. Just in time before the big movie release!
First the movie tie-ins. I know, I know, why do we care? Well, for one I'm a big collector of the movie-tie in books. For some reason I love the books with the movie covers, etc., on them. They're just another silly thing for us fans to collect, and for the companies to make bank off of us. They provide, and we buy!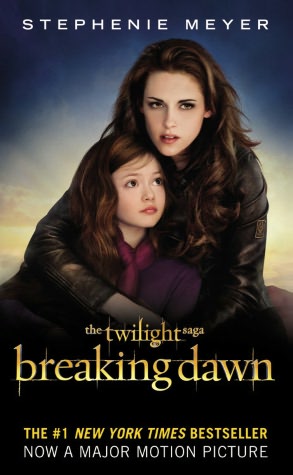 From what I can see, the mass-market paperback featuring Bella and Renesmee is already for sale(?) I can't see anywhere where they are for pre-order, however some websites are stating both tie-ins will be released together. I don't know if this is truthful, or not.
Barnes & Noble
is listing this book as TO PURCHASE NOW! And the regular paperback is still pre-order only.
Deets:
-
The Twilight Saga: Breaking Dawn
- Stephenie Meyer
- Mass Market Paperback
- $7.99 (paperback) & $8.99 (Nook) & I can't find a link for Amazon, so if you're looking there you'll need to do some extensive searching.
---Comments: I DIE for this cover!!! I may be one of the few who actually LOVE
Breaking Dawn
, and have always loved Bella and Renesmee's mother/daughter relationship, so when I first saw this cover I squealed. So excited to get this one on my shelf!
P.s. I haven't been to Target or Wal-Mart yet, so I don't know if this paperback is already on the shelves or not. I'm hoping to get there soon to investigate.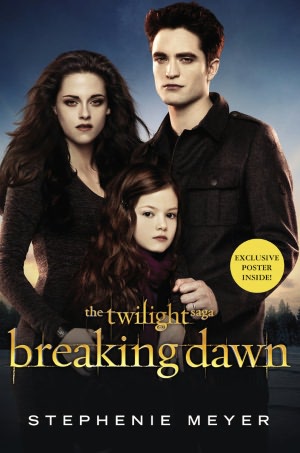 For the regular paperback Bella and Renesmee return to the cover, however Daddyward (or just Edward) is joining them. I love this cover something fierce, as well. Again, I'm one of the few who absolutely LOVES
Breaking Dawn
, so seeing these characters' brought to life is so freaking exciting. I loved the mom, dad, baby dynamic in the book!
Barnes & Noble and Amazon both have this paperback listed as pre-order.
Deets:
-
The Twilight Saga: Breaking Dawn
- Stephenie Meyer
- Paperback
- $10.69 at
Barnes & Noble
<-- Released on Sept. 25, 2012
- $11.62 at
Amazon.com
<-- Released on Oct. 11, 2012
I'm sure the prices for Target and Wal-Mart will vary from $11-12, as that's usually what the regular paperbacks are sold for. Sometimes even higher. Make sure to do your research before you spend too terribly much!
And now for the
Entertainment Weekly
book!
It was recently announced that the editors of the magazine were compiling a book dedicated to the
Twilight
franchise. Over the past five years, EW has been one of the first magazines to bring readers exclusive first-look interviews and pictures for
Twilight
all the way to
Breaking Dawn Pt. 2
. Throughout the years, they have collected tons of pictures, and a lot of interviews that never made the articles. In a fitting tribute, they have decided to chronicle (if you would call it that) the behind-the-scenes, and excluded content into one book.
Official description:
A gorgeous all-access guide to the Twilight saga from the magazine whose writers and photographers covered the phenomenon before anyone else and better than anyone else. "The Twilight Journey" follows author Stephenie Meyer and stars Robert Pattinson, Kristen Stewart and Taylor Lautner on their wild, five-year journey from the set of the first movie to the premiere of 2012's "Breaking Dawn, Part 2." With funny, intimate, often shockingly frank interviews as well as set visits, trivia, book and movie guides, and dozens of now-iconic photographs. The book is not only a keepsake for fans to pore over but also a revealing portrait of an unassuming first-time author and three very different young actors coping with a fame so sudden and overwhelming that it not only transformed their lives but Hollywood itself. Includes five posters based on original EW covers.
Deets:
-
Entertainment Weekly Twilight: The Complete Journey
- From the editors of Entertainment Weekly
- Paperback
- 112 pages
- Includes 5 posters based on original EW covers
- Releases on October 2, 2012
Links:
-
Amazon
$11.30 <--- pre-order
-
Barnes & Noble
$11.86 <--- pre-order
-
The Book Depository
$13.46 <--- pre-order
-
Amazon UK
£10.21 <--- pre-order
Just a reminder: You can still pre-order your copy of The Twilight Saga: The Complete Film Archive for $26.93! Plus, Snow White and the Huntsman is out on DVD/Blu-Ray next Tuesday (September 11th), so make sure to either pre-order a copy now, or go out and buy it!
DISCLAIMER: The picture used for The Twilight Saga: Breaking Dawn regular paperback can be found HERE